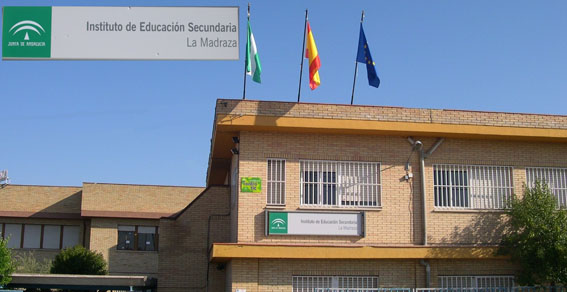 Address: Carretera de Maracena s/n
18014 GRANADA (SPAIN)

Telephone +34958893669

Fax +34958893668

Website http://ieslamadraza.com
IES "La Madraza" is a medium size general secondary school, with 246 students from 12 to 16 in the ESO levels (Compulsory Secondary Education), 162 students from 17 to 18 in the non-compulsory secondary levels ("Bachillerato", in both the Sciences and Humanities modalities) and about 70 in a training scheme for Pharmacy assistants. The staff is composed by 51 Secondary Teachers.
The school, more than twenty years old now, is located in the outskirts of Granada, in a neighbourhood that has grown fast in the last years, but still many of the pupils come from the village of Maracena, quite close to the provincial capital. The socioeconomic and cultural background of the students is quite diverse, but the pattern is middle and working class families. We have a significant group of very motivated students whose goal is University or other options of higher studies -a goal that most of them achieve successfully. Among our pupils we count a short number of Maghrebis, Central and South Americans and Europeans though the presence of immigrant students is not as high as in other schools in Andalusia.
We started in 2008 a Bilingual Section in English and the teachers' commitment with this project is really high, as it is in relation with other projects and programmes that we are developing in areas such as Education for Health (our programme in that field, "Forma Joven" was awarded

top prize in an international contest in 2009

), Education for Peace and Non-Violence, Gender Equality, Information and Communication Technologies and Improvement of Reading.